A woman tracked down a lookalike on Instagram and murdered her with a friend in order to fake her own death, German prosecutors believe.
Reports initially identified Sharaban K, 23, as the victim after the blood-covered body of a young woman was found in a parked Mercedes in Ingolstadt last August.
Despite Sharaban K's family identifying the body, an autopsy report later raised questions over the identity of the victim.
The victim was eventually named as Khadidja O, a 23-year-old Algerian beauty blogger from Heilbronn which is in the neighbouring state of Baden-Württemberg.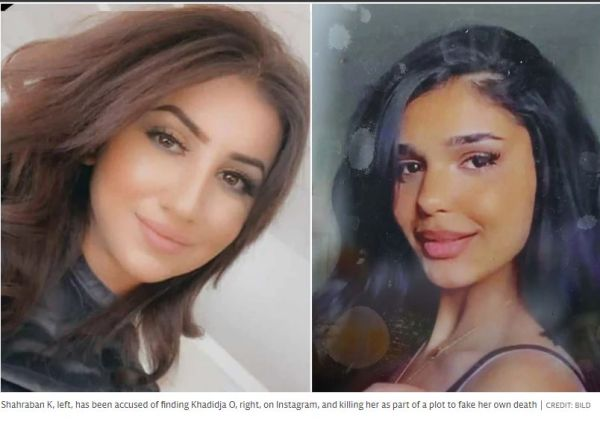 The German press have referred to the case as the "doppelganger murder", with police admitting the women look "strikingly alike".
Sharaban K and a 23-year-old Kosovan named Sheqir K were detained on remand by Bavarian police on 19 August 2022.
"Investigations have led us to assume that the accused wanted to go into hiding because of a family dispute and fake her own death to that effect," Veronika Grieser of the Ingolstadt state prosecutor's office said on Monday morning.
Police say several women bearing her resemblance had been contacted by Sharaban K, operating on social media sites under numerous aliases one week before the murder. "By making various promises she tried to bring about meetings, which was initially unsuccessful," Grieser said.
But Khadidja O had agreed to meet after reportedly being lured by a cosmetics offer.
Sheqir K and Sharaban K allegedly picked her up from her apartment on the day of the murder. They are then accused of luring her out of the vehicle before stabbing her to death.
"The crime weapon has not been found, but the evidence is overwhelming," a police spokesperson, Andreas Aichele, told the tabloid Bild. "The victim was killed with over 50 thrusts of the knife, the face completely disfigured."
Prosecutors allege the pair then lifted the victim on the backseat of their Mercedes and drove to Ingolstadt, parking the car in a quiet residential area by the banks of the Danube, where it was discovered by Sharaban K's parents shortly before midnight on 16 August 2022.
"You don't get a case like this every day, especially with such a spectacular twist," Aichele told Bild. "On the day we found the body there was nothing to prepare us for this development."