Maybe "Megxit" was never about Meghan Markle. Maybe it was always driven by Prince Harry, who, in his American wife, found the much-needed catalyst to leave a family where he could never outrun the feeling of being second-best. The spare as opposed to the heir.
This is not simply my opinion. It's the central theme and story of "Spare," the prince's wildly buzzy new autobiography. I read the book this week, in one sitting. It has made headlines for its various gossipy nuggets — Harry dunks on William hair loss! William punches Harry! And it easily pivots between heartfelt and introspective to petty and naive. But to my surprise, I shed a tear for the protagonist at the end. Because I think what the book really reveals is an ultimately complicated man who has been truly traumatized by the preordained details of his birth order. He is a man motivated less by higher principles, perhaps, than by a sincerely felt insecurity. That insecurity has haunted and molded his psyche, from childhood to adulthood. And his latest life chapter with Meghan merely confirms a lifelong lament.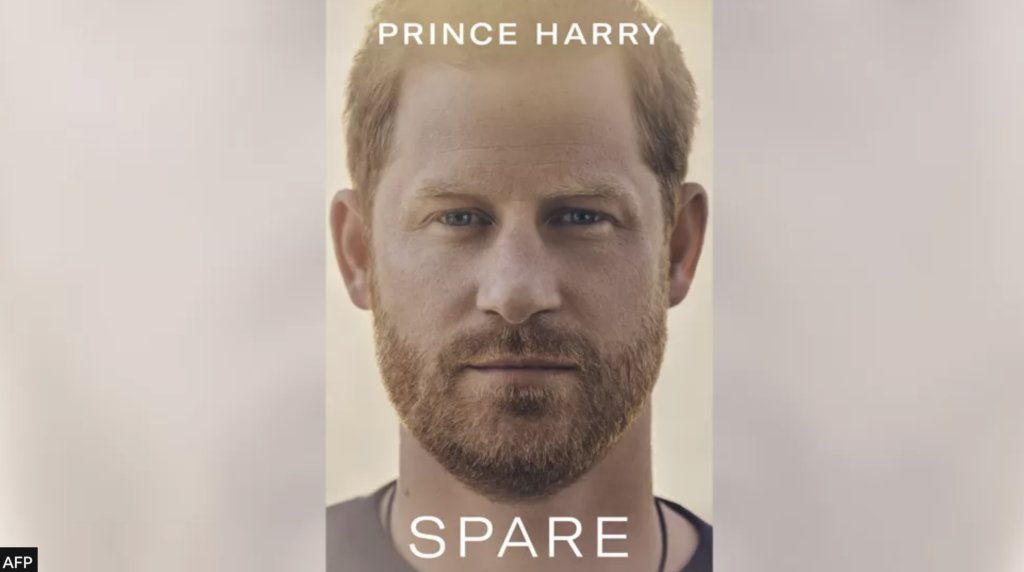 Harry tells us there's not a moment since his birth where he's not felt relegated.
The term "spare" is used in this memoir literally dozens of times. Harry tells us there's not a moment since his birth where he's not felt relegated. Even his birth is diminished because, he learns, his father Charles feels that now that he's got a spare, his paternal duties are over. "I was twenty the first time I heard the story of what Pa allegedly said to Mummy the day of my birth," Harry writes. "Wonderful! Now you've given me an Heir and a Spare — my work is done. A joke. Presumably."
Harry says he felt like the spare as a young boy because Prince Charles and William were never supposed to go on the same plane, so that if one died, the other would survive. But no one cared what plane Harry was on. He felt like the spare when it was suggested that William walk behind his mother's casket without him (that did not happen). And he says he believes British tabloids singled him out because of his second-son vulnerability, calling it a "public sacrifice of the spare."
Indeed, Harry's resentment of William colors so many moments in the book; even his memory of the tabloid reports of him dressed up as a Nazi are tied to this insecurity. Why wasn't the focus on his brother, who was wearing a "skintight" leotard?
But there are also advantages to being overlooked.
William, Harry says, believed his younger brother exploited his "spare" status to curry favor with "Granny," the queen, when he asked her to break with army rules and wear his beard on his wedding. "You put her in an uncomfortable position, Harold! She had no choice but to say yes."  
And, there's that tense, desperate moment when, inside Nottingham Cottage, Harry says William decked him over frustration with the new duchess' seeming inability to fit in. "She's rude. She's abrasive. She's alienated half the staff," William reportedly says. The real motivation for the physical altercation, according to Harry? "I wasn't dutifully playing the role of the Spare," he writes.
You have to admire his honesty — and it's somewhat impossible not to feel sorry for him (even if the repetition does get tedious).
You have to admire his honesty — and it's somewhat impossible not to feel sorry for him (even if the repetition does get tedious).
This side of Harry — a man prepared to take at least some accountability for much of the drama that the English media, in particular, has hitherto blamed on Markle — is new.
In TV interviews — with Oprah Winfrey in 2021 and in last year's Netflix series "Harry & Meghan"— Harry presented himself as a cultural warrior dutifully supporting his wife's battle against the systemic racist bigotry of the outdated institution that was his family. He was a man who'd seen the light.
Even in recent promotional interviews, Harry has still often spun his airing of the royal laundry as noble. At least he's going on the record, he says, whereas his family members use anonymous mouthpieces to leak garbage on their relatives.
But in "Spare," a sadder, smaller truth is writ large on page after page. The details show a far more complex picture of "the bad guys," precisely because the author's vision is clearly constricted by his feelings about his circumstances.
Reading between the lines, King Charles comes off as loving, not remote or anachronistic. He calls Harry "my darling boy." He takes Harry to see Shakespeare. He drops Harry off at Sandhurst to begin his time at the military academy. Before Charles gets too old, he plays tag with his son. He bonds with Meghan over Chopin. The king is not perfect, but he's decent.
So, too, despite all Harry's resentment, seems to be his brother. William stays by Harry's side the night before Harry's wedding, only leaving to stay the night with Kate and his kids. (And for Harry to begrudge him that last bit — which he does — feels petty.)
The main villain is Camilla, who, in Harry's telling, becomes the leaker-in-chief in order to protect herself. He rarely mentions Camilla without also mentioning how she usurped his mother.
The runner-up villain is Kate. But on this topic, Harry' resentment gets the better of him. In the way he describes interactions with his sister-in-law, he clearly wants the reader to choose Meghan over Kate. Informality over formality. The spare's wife over the heir's. But in the end, I don't think readers will choose. They'll read "Spare" and see that, personalities aside, the chief culprit for Harry's lifelong resentment is the unfortunate law of primogeniture.
Until he met and married Meghan, other than when he was in the army (another escape), Harry struggled to make sense of his life. But his wife, an American, presented him with the opportunity to do something he says he has always wanted: to break free of his family and make a statement. Even in his teens, Harry sensed he'd one day break the mold. He writes, "Part of me really did want to do something totally outside the box, something that would make everyone in the family, in the country, sit up and say: What the—?"
Well, with his marriage to Meghan, their exit, and "Spare," he's done it. Hopefully he can finally find some happiness.