A Taiwanese student recently made news headlines for a clever art project involving a racy billboard that wasn't exactly what it looked like.
Facebook has a very strict policy when it comes to nudity, but this policy is often poorly enforced. For example, photos showing female nipples are considered nudity and are almost instantly removed by the Facebook algorithm. However, the tool is far from perfect, and it has a tough time distinguishing between male and female nipples, especially in the case of androgynous men. This was the case with Wu, a slender, long-haired art student from Shezi, village, in Tainan, who recently had an artistic picture removed from Facebook for indecent exposure. The experience gave him an idea…
Photo: Mirror Media
Wu Zongdai, a graduate student at the University of Southern Arts, was intrigued by Facebook's decision to remove the photo, which showed him laying on a couch, wearing female lingerie. His bra is slipping from his shoulders, and one of his nipples is showing, but Facebook doesn't consider male nipples nudity… It's unclear whether he was able to appeal the removal, but the experience made him curious about how real people would react to his photo.
The Taiwanese student rented a roadside billboard in his quiet little village and plastered the same photo removed by Facebook onto it. Then he just sat back and waited for people's reactions to it. He didn't have to wait very long, as the racy picture quickly attracted locals' attention. Within hours, someone alerted the police, and officers started asking around, trying to find the 'culprit'.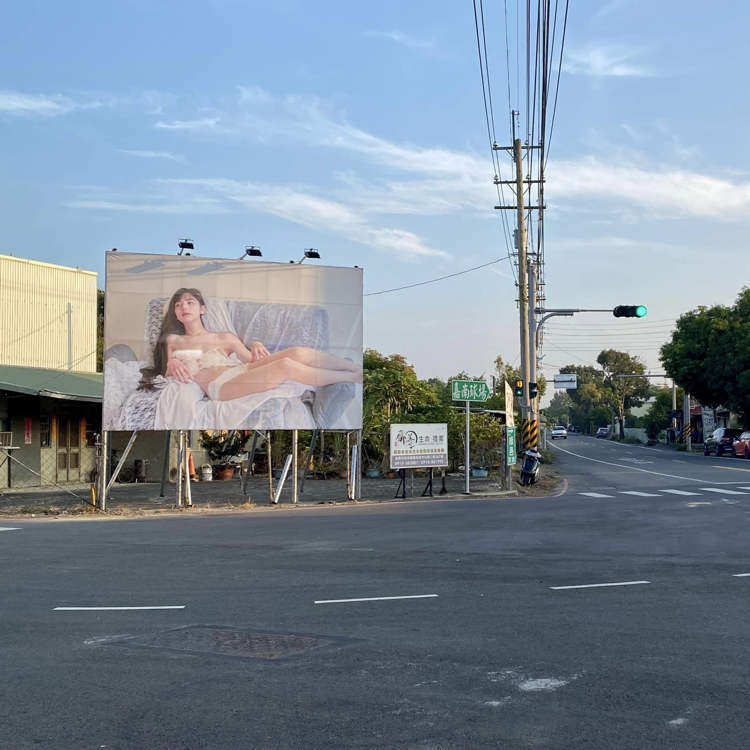 Photo: Mirror Media
When the police tracked down Wu and warned him that he could be charged with indecent exposure, the student calmly explained that he was the 'girl' in the photo and that the billboard was an art project. Apparently, he was off the hook with the police, but not with his own university.
According to Mirror Weekly, members of the faculty tried to convince Wu to take down the billboard, as it risked affecting the reputation of his university. However, the student held his ground, explaining that the name of the university was not mentioned anywhere on the billboard and that there was no legal reason to have the image removed.
Even though people started accepting Wu Zongdai's billboard more after learning that the person featured in the photo was actually a man, the student has been asked by Shezi officials to take it down sooner than he had originally planned. Wu had paid for the billboard space until March, but he will reportedly have to take it down on February 5, because even though he is a man, the fact that he looks like a woman in the controversial photo still puts some people on edge and the community has to be respected.