Former US national gymnastics team doctor Larry Nassar was stabbed multiple times in prison on Sunday during a fight with another inmate, the BBC's US partner CBS News reports.
Nassar, 59, was sentenced to up to 175 years in prison for molesting gymnasts.
He is reportedly in hospital in stable condition after the Sunday attack.
He suffered a collapsed lung after being stabbed twice in the neck, twice in the back and six times in the chest, a prison union leader told NBC.
In a statement to the BBC, the Federal Bureau of Prisons said an inmate had been assaulted at 14:35 EST (18:35 GMT) on Sunday at United States Penitentiary Coleman in Florida, where the disgraced former doctor is serving time.
"Responding staff immediately initiated life-saving measures", the agency said, and the inmate was taken to a local hospital "for further treatment and evaluation". An internal investigation has been launched.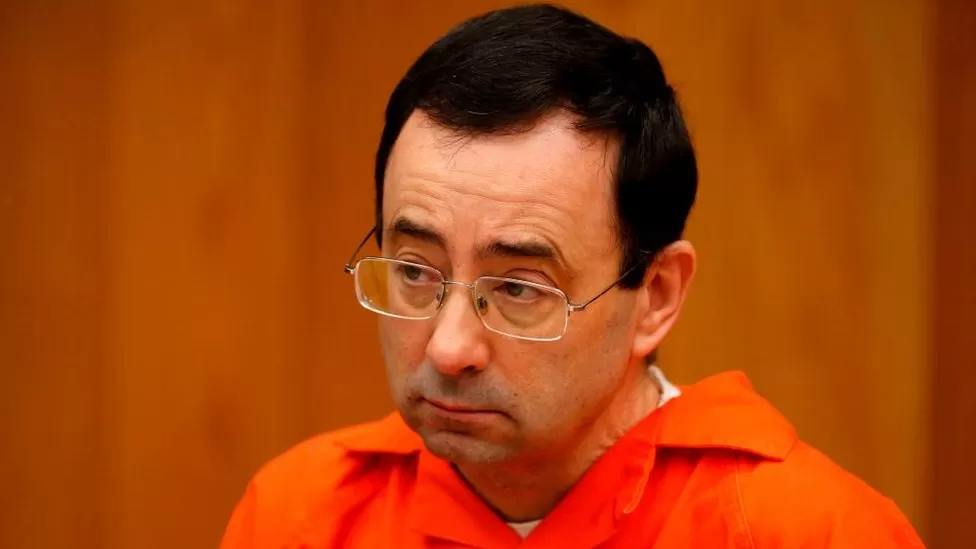 No staff or other inmates were injured in the incident.
Nassar admitted to sexually assaulting athletes while he worked with the USA Gymnastics programme and Michigan State University, where he maintained a clinic.
The former doctor – who has been serving time at a federal prison in Florida – also pleaded guilty to possession of child pornography.
More than 330 women and girls at USA Gymnastics and Michigan State University have accused Nassar of sexual abuse.
Olympic gold medallists Simone Biles, Aly Raisman and McKayla Maroney have all testified about surviving Nassar's abuse.
Some of the young athletes said they had come forward about the abuse to adults, including coaches and doctors, but were dismissed.
An investigation into the FBI's handling of the scandal, published in 2021, found the agency made a series of missteps, including delays and cover-ups, which allowed Nassar's abuse to continue for several more months after the case was first opened.
The agency's own watchdog found the FBI disregarded allegations about Nassar and made early errors in its investigation.
Several women who were sexually assaulted by Nassar – including Raisman, Biles and Maroney – have sued the FBI for $1bn (£783m) for mishandling credible complaints of sexual assault.
USA Gymnastics has agreed to pay $380m to Nassar's victims, while Michigan State reached a $500m settlement with survivors.