A Canadian model who is addicted to extreme plastic surgery has been left looking like an 'alien' after one of her 10kg breast implants exploded.
Mary Magdalene, 30, has spent more than $100,000 on surgery over the years and almost died on the operating table several times. Her extensive procedures have also left her with severe back pain, meaning she needs a wheelchair to get around.
In the latest setback for the troubled star, one of her 5000cc implants has now burst, leaving her with an enormous 'uniboob' and a saggy, empty breast next to it.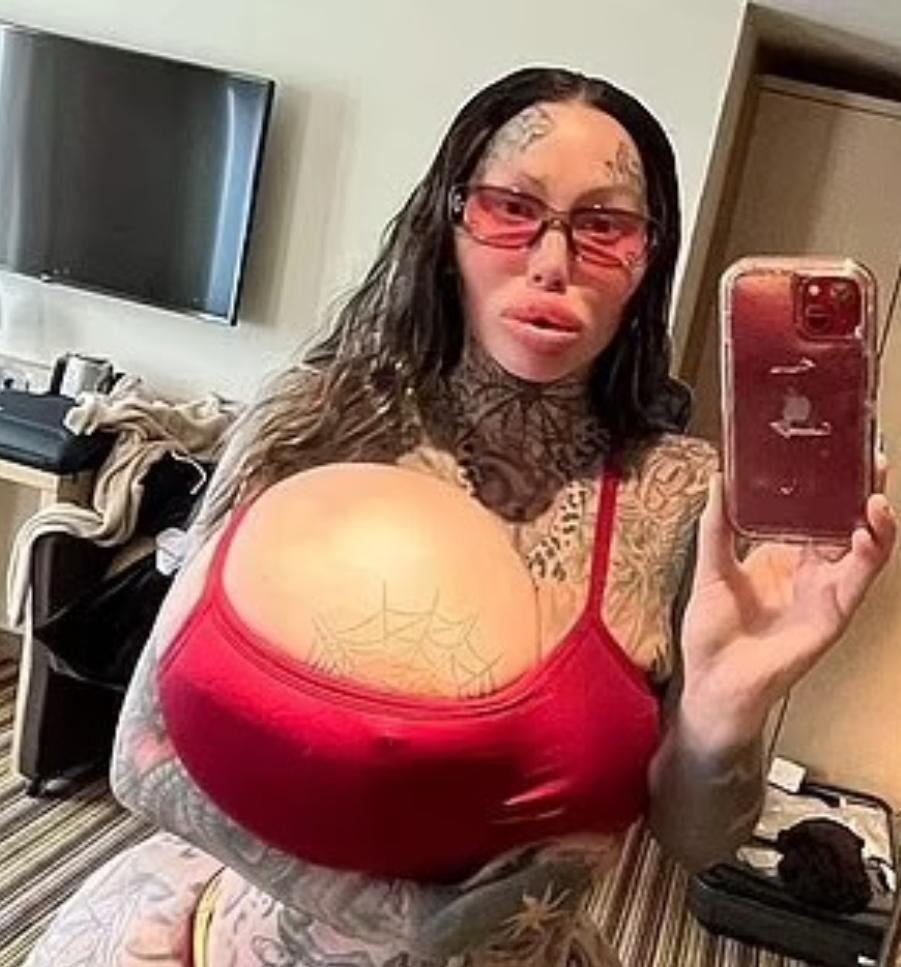 While it's unclear what caused the 38J implant to pop, some fans are speculating Mary may have over-filled it using an expander.
Expanders are a feature of some implants that allow the patient to top them up themselves with saline via a needle and port in the implant.
'My breast implant popped – again,' said the Toronto native, who is scheduled to 'have surgery to take them [both] out next week'.
Mary believes her burst implant is a 'sign' she should start embracing a more 'natural' look after a decade of transforming her body with surgery.
'I'm going to go back natural in not only my boobs but other parts of my body, too,' she told her 163,000 Instagram followers.
She also revealed during a livestream that it didn't hurt when her implant burst, and she only realised what was happening when she heard a 'pop'.
In the meantime, the OnlyFans star said she was enjoying her 'uniboob' era and even compared herself to an 'alien'.
The heavily tattooed model had her first procedure done at the age of 21, when she was working as a stripper and escort. (She is pictured before her transformation) 
Over the years, her other surgeries have included a brow lift, fat transfers, multiple nose and boob jobs, veneers, liposuction, chin lipo, porcelain veneers and more 
Mary had a fourth nose job last year to create a 'Barbie nose', along with cat-eye surgery and eyebrow implants.
She became a social media sensation in 2018 after she almost died during an operation in Colombia to achieve 'the world's fattest vagina'.
Her surgeries have led to multiple health complications: last April she revealed she could no longer close her mouth due to having so many procedures on her lips, and in September she said her enormous breasts had left her wheelchair-bound.