At least four people were killed when a floating restaurant collapsed into the sea during an earthquake in Indonesia today.
The Cirita Cafe in Jayapura, Papua crumbled as the magnitude 5.5 quake rocked the eastern province on the afternoon of Thursday 9 February.
Four women were unable to flee the collapsed building in time and were buried under the rubble.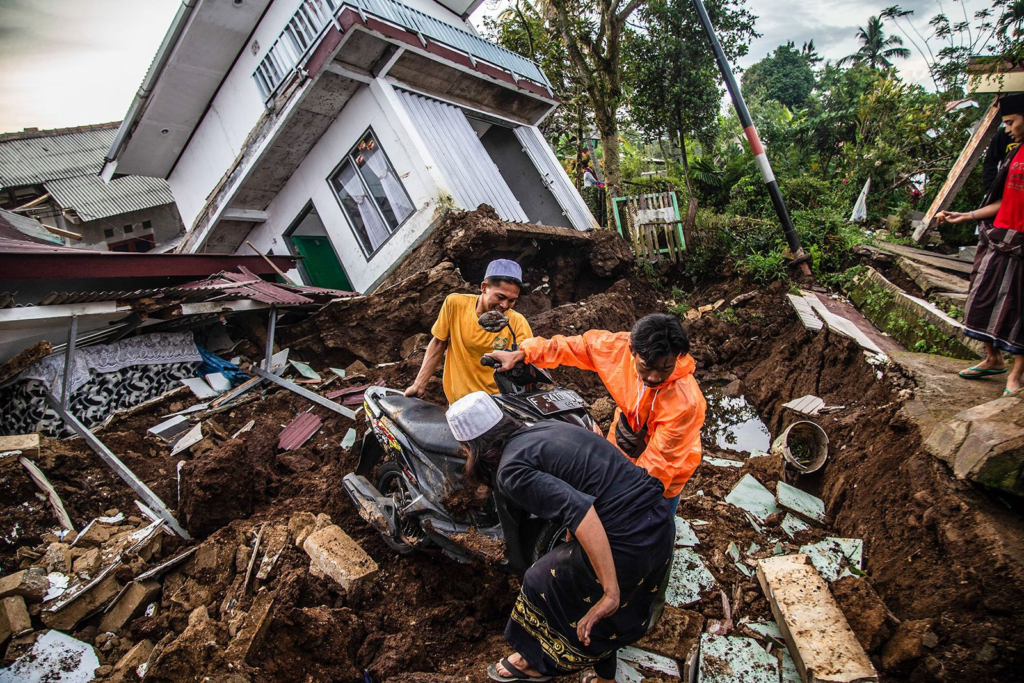 They were found lifeless in the Jayapura Bay by responders.
'A café collapsed and four people died there. It fell into the sea,' Asep Khalid, head of the Jayapura disaster mitigation agency, said in a press release.
Putri Kurita, 30, bolted for the exit at another restaurant fearing it would collapse.
'I was having lunch when things suddenly swayed, the jolt got much stronger,' she told AFP.
Other infrastructure, including the Jayapura Mall, were reported to have been damaged. 
A number of residents were also injured.
The country's geophysics agency said several aftershocks occurred after the main shock, which lasted a few seconds.
Video clips from the scene show locals stretchered out around the hospital, which was also reportedly damaged in the event.
A car showroom is also shown with broken window frames and glass shattered on the floor. 
Indonesia's meteorology, climatology and geophysics agency said the earthquake struck at 1:28 pm local time on Thursday, around one kilometre southwest of Jayapura at a depth of ten kilometres.
It comes just days after an earthquake in Turkey killed at least 15,000 people across the country and in neighbouring Syria.
Agencies initially reported slightly different magnitudes for the earthquake.
The country's meteorological agency put the magnitude at 5.2. 
The European-Mediterranean Seismological Centre (EMSC) reported 5.5.
The US Geological Survey claimed a magnitude of 5.1. 
A 7.6 magnitude earthquake also hit under the Banda Sea near Indonesia on Tuesday, felt in Darwin, Australia.
It damaged a handful of local buildings and injured one in Indonesia.
Indonesia was also hit by a 6.2 magnitude undersea earthquake on 16 January.
The archipelago sits on the 'Ring of Fire' arc of volcanoes and fault lines in the Pacific Basin, and is prone to earthquakes.
Since 2 January 2023, there have been 1,079 earthquakes around Jayapura, with 132 felt by residents, according to Indonesia's geophysics agency, BMKG.